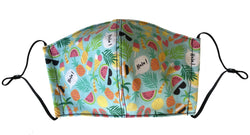 Tropical Face Cover
Size Chart
Who says safety can't be fashionable and fun...especially in our fun Tropical Face Cover.

All face covers have 3 layers of fabric, are machine washable and have a pocket in the back for a replaceable Carbon Filter. Includes 1 Carbon Filter, adjustable elastic straps and a bag to store your face cover.

Eco-Friendly, 100% Cotton, Washable. Always made in the USA!!!
Please remove filter before washing.
XS: 5 3/4" height x 7 1/2" width
Small: 6" height  x 8" width
Med: 6 1/2" height x 8 1/2" width
Large: 7" height x 9" width

**Sizing: In general, XS fits kids from around 7 to 12 and petite women. Small fits small women. Medium typically fits the average woman, teenager or smaller man. Large fits most men.

***Due to safety Face Covers are final sale

Replacement Filter: https://luxemutt.com/products/face-cover-filter-replacements